April 2016
April 1, 2016 by Presbyterian Foundation
Stewardship Ministry
Dear Friends:
At the recent Stewardship Kaleidoscope meeting, one keynoter discussed the millennial generation (born early 1980s to 2000). Among the statistics and preferences was a tiny gem. When churches pass the offering plate, millennials don't know where to set the bar. Is $5 appropriate, or should they give $500? This exposes two issues. First, churches use the phrase "gifts and tithes" without defining that archaic "t" word or lifting it up as an expectation. Second, it seems while growing up millennials didn't learn what families give, or how they approach charitable giving. The silent generation (born mid-1920s to early 1940s) are among the best supporters. However, many may have remained silent about church and charitable giving, even within their own families.


Admittedly, millennials can run circles around their parents and grandparents when texting donations from their phones, opening QR codes and swiping plastic. They are generous and want to see immediate positive change. They respond to appeals that name a cost and benefits – a child immunized, a blanket for a displaced person, or food for a family. It is the (generous) equivalent of the impulse purchase items stores display near the checkout counter. "I can afford it and it makes me feel good."

When meeting with groups, I sometimes ask if the phrase "10-10-80" means anything to them. Most often I see blank faces. The adage of "10 percent to the church, 10 percent to savings and 80 percent to live" dates me as much as my audience. The generation that lived through the Great Depression understood this as a rule for responsible financial management. Giving came first, saving came second, and if there were sacrifices, they came in daily spending, even in those times of great financial turmoil.

One way for families to begin discussions about intentional, even sacrificial, giving is to establish a donor-advised fund (DAF). DAFs are fund accounts to which donors can contribute and from which charitable grants are made in a single year or over the course of several years. Donors make recommendations to the sponsoring organization (like the Presbyterian Foundation) as to where and when charitable grants are made from the account, but the Foundation retains exclusive legal control over the account. There are also tax and planning advantages to using DAFs.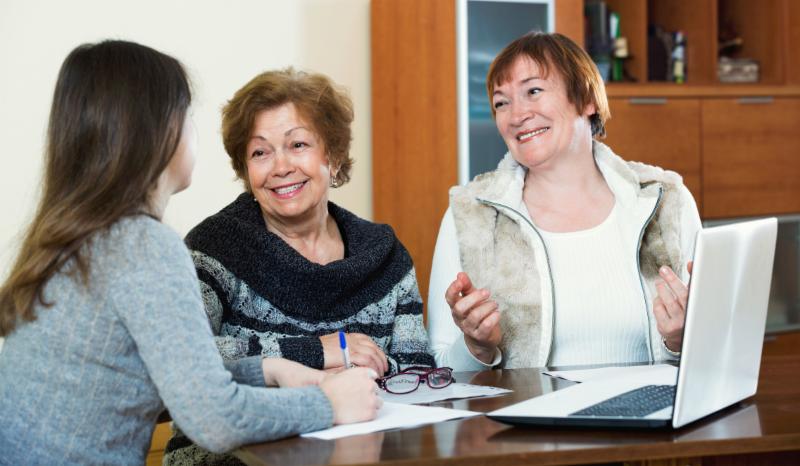 Together families can determine the amount of the initial contribution to establish the DAF. They can identify and discuss the types of ministries or missions to support, at what level, and share why it is important to them to help a particular mission or ministry. As a family, you can research charities to see what impact your gift can achieve, and to assure that your gift is well managed. You can make grant recommendations to qualified non-profit organizations (including church) of your choice. Some choose to enhance their monetary gift by volunteering as a family or raising additional money and adding to the DAF account through yard sales, car washes or other fundraising events and activities.

The millennials in your family will like that they can submit grant requests online. Whatever the means, helping the next generations understand the basics of financial planning, including charitable giving, will give them skills they can use throughout their lives.

There is more information at the Foundation's website PresbyterianFoundation.org. Your Ministry Relations Officer can answer questions and help you set up a donor-advised fund. Call us at 800-858-6127, option 3 and we'll put you in touch.


An Easier Way to Give
by Eva Stimson
Giving has always been important to Jamie and Anne Dale. They donate regularly to a long list of charitable organizations, including their congregation, Warren Wilson Presbyterian Church in Swannanoa, North Carolina.
"We sit down every year and decide what we want to give," Jamie says. But now, instead of Anne spending time every month writing checks, they have set up regular contributions through a Donor-Advised Fund (DAF) of the Presbyterian Foundation. The new system saves time, says Jamie. "For our bookkeeping purposes it's much simpler."
Not only that, the Dales received a tax break when they set up their DAF, and continue to receive a tax deduction each year when they make a additional gifts to the fund.
"We had some stocks that were given to me when I was a child," Jamie explains. "Selling them would have incurred a very high capital gains tax." Their financial advisor told them, "The best thing to do would be to give the money away" through a donor-advised fund.
Some online research revealed many options for setting up donor-advised funds. The Dales chose the DAF offered by the Foundation because so much of their giving is directed to congregations and church-related groups. The Foundation is set up to handle such gifts with ease, unlike most secular financial organizations.
A minimum of $2,500 is required to open a DAF through the Foundation. Donors may receive a charitable tax benefit for the full amount they put into the fund. They can then recommend the Foundation make grants of $100 or more from the fund to the charities they want to support.
Olanda Carr, Ministry Relations Officer for the Foundation (East Region), was not surprised that the Dales chose a DAF to fulfill their charitable donation needs.
"Donor-advised funds are an excellent way to make charitable donations," he says. "They offer tremendous flexibility and provide a demonstrative approach for family members and friends to learn more about the power of generosity. Through the convenience of online services, whole families are able to get involved in the process of making charitable grant recommendations."
A look at the list of causes to which they contribute reveals places and ministries that have been important to their family over the years.
Jamie is a graduate of Union Presbyterian Seminary and worked in the seminary's admissions office for 10 years. So Union receives annual gifts from the Dales' DAF.
Another gift recipient is Camp Hanover, the camp of the Presbytery of the James, where the Dales' daughter was a camper and later a counselor one summer while they were living in Richmond, Virginia. "She had some really good experiences as a camper," Anne says.
One of the ministries that Anne particularly wanted to support is the Women's Bean Project, a Denver-based program that equips chronically unemployed and impoverished women with job training and interpersonal and life skills. The women receive transitional employment – preparing, packaging, and shipping bean soup mixes and other gourmet food products – while learning skills that will help them achieve a better future.
"I liked the concept of helping women get back to work and get their lives back together," Anne explains. She was glad to find products of the Women's Bean Project on sale at the Ten Thousand Villages gift shop at Montreat Conference Center.
Habitat for Humanity also receives donations from the Dales' DAF. Jamie says he has been an enthusiastic supporter of the house-building ministry ever since sharing hostel accommodations with a Habitat organizer in Zaire in 1978. Jamie, who was doing an internship in Africa at the time, was impressed by what he learned about Habitat. He and Anne have since volunteered with the organization in addition to supporting it financially.
The Dales view giving as a way of responding to God's grace by putting their faith into action. "We have been extraordinarily blessed," Jamie says. "It's up to us to pass it along."
They are pleased that setting up a DAF has made it even easier to share their money with others. "Fundamentally, it's not ours," Jamie says. "We have it in trust for now, but it all comes from God."
Why donor-advised funds should be part of church stewardship efforts
Donor-advised funds (DAFs) are the fastest-growing form of charitable giving in the U.S. Donors use them by making a gift to a Foundation to establish the fund, then recommending grants from that fund to charities they support, including their church. DAFs allow donors to respond to an immediate need in the wake of a disaster or split their giving among multiple funds to address need. They also offer parents a great tool for teaching their children about generosity – talking with them about the grants they wish to make and the reasons for giving. Parents may name adult children as successor advisors to their fund, and use this as an opportunity to talk about shared values and excitement for various ministry and mission causes. The Presbyterian Foundation offers donor-advised funds with an easy online management system that enables donors to recommend recurring grants to their churches.